Centralized, Web Based, Student Information Solutions With Parent And Teacher Portal.

Rich functionality, higher education customer input— these are just three reasons ODOO leads the industry in Education management systems.



Efficient management of students, faculties, courses and classes with a collaborative platform.



The Simple and affordable web solution that has everything You can manage your institution.

EduERP Advantages To Your Institute
Students
Comprehensive admission form with Unique ID for all students with photo.
Comparison feature to view their previous results and benchmarks.
Accurate performance report.
Time table and lecture schedule.
Online exam integration.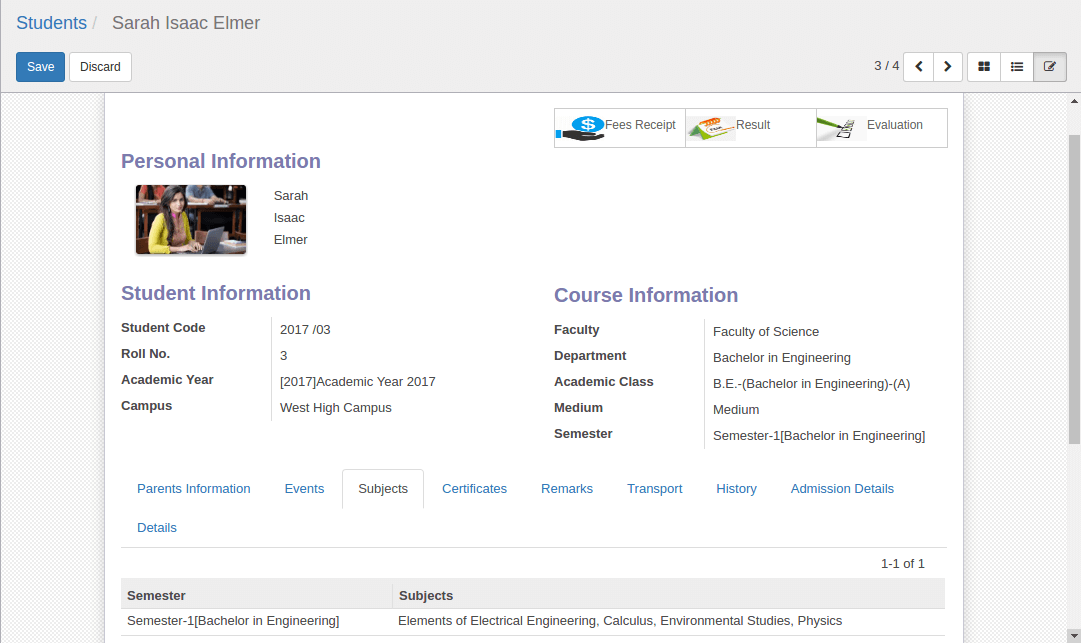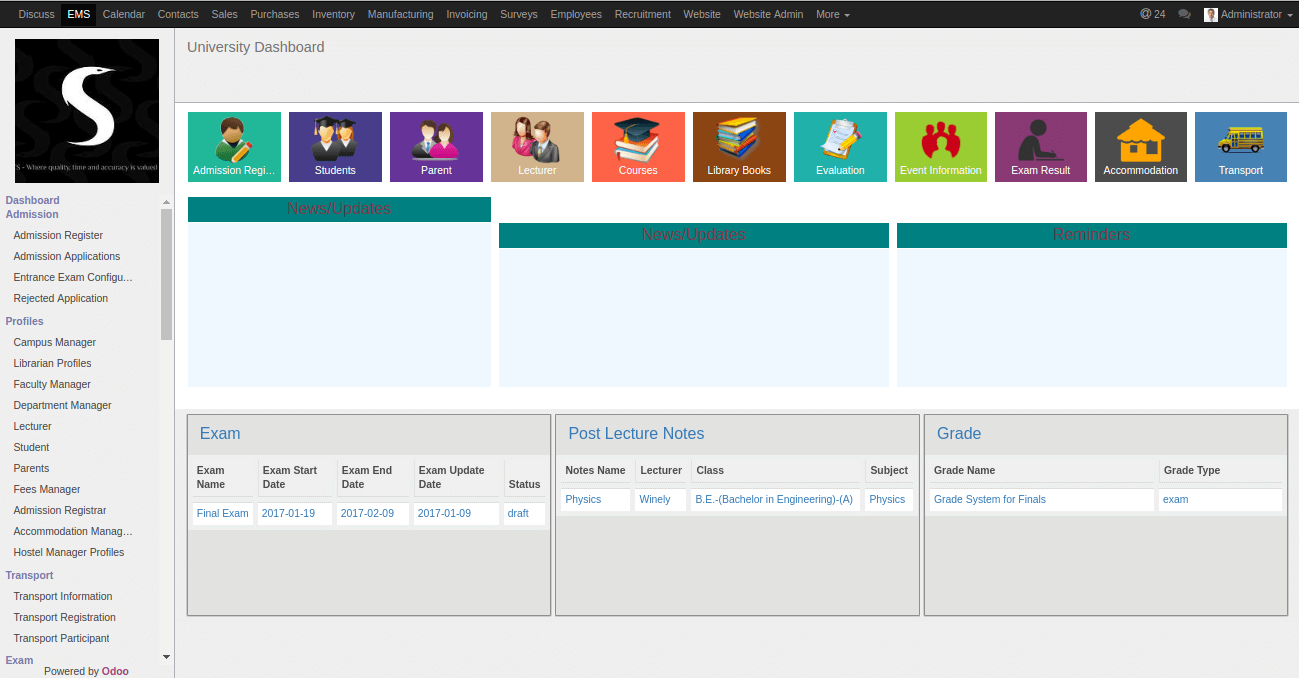 Assignment

Upload and download notes / assignments for the teachers and students can submitted notes online.
Completion tracking report can be viewed within the provided time frame.
Upload or download syllabus options.
Course books information with publisher details.
Efficient multi user friendly environment.
Faculty
Faculty's credentials information Daily work can be assigned.
Faculties Remuneration records for variably payments to the lecturers.
Customize reports with multiple filtration option.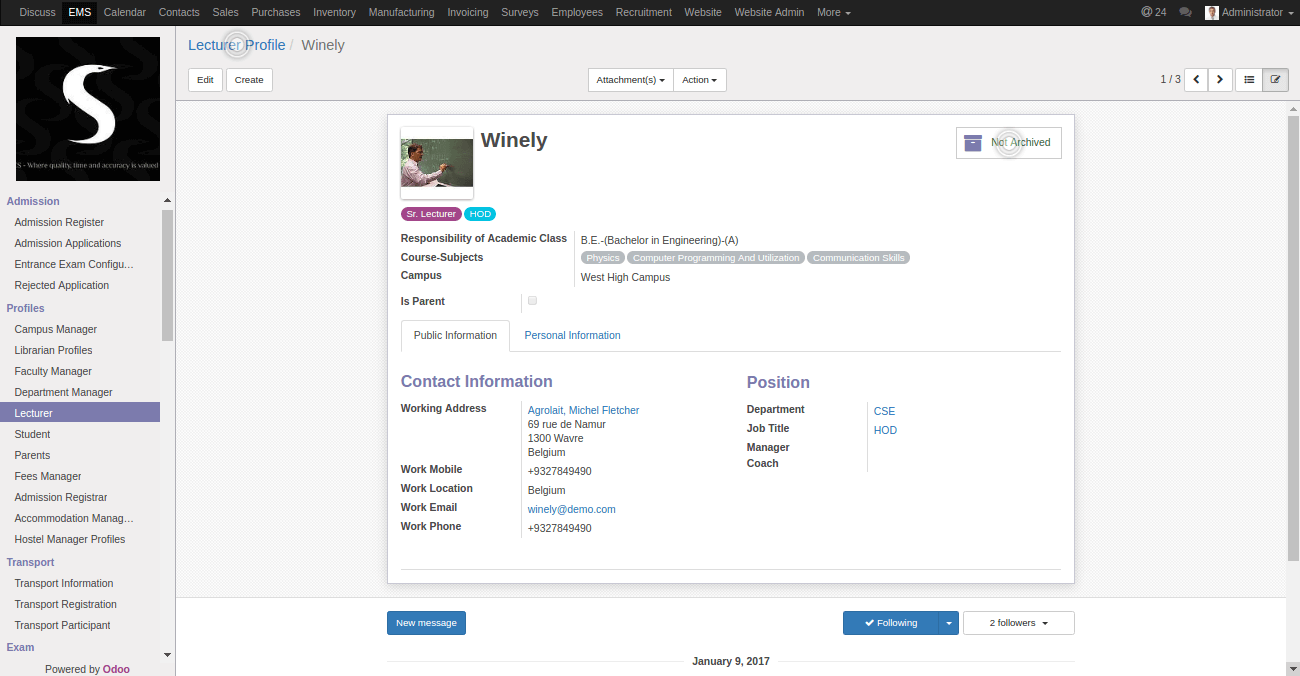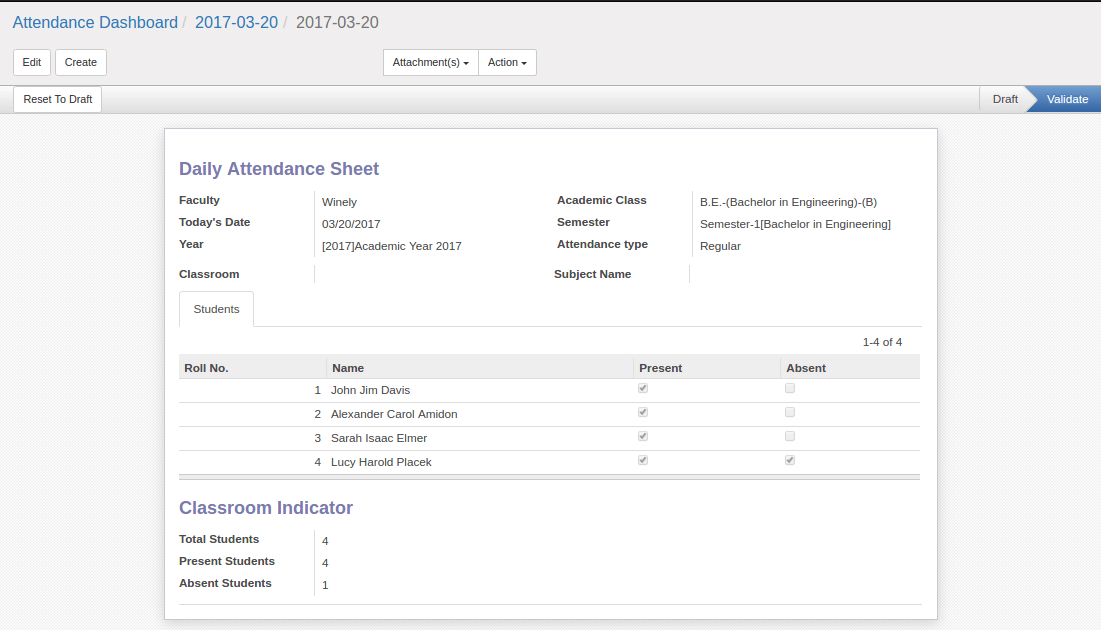 Attendance And Time Table

Quick and Easy marking of attendance, Note/Remarks for attendance can be given.
Attendance, Leaves, personal and information can be viewed and updated.
Examinations
Create different types of exams based on grades, marks and Group exams.
Define Exam templates, allocate Exam Resources, and track exam attendees.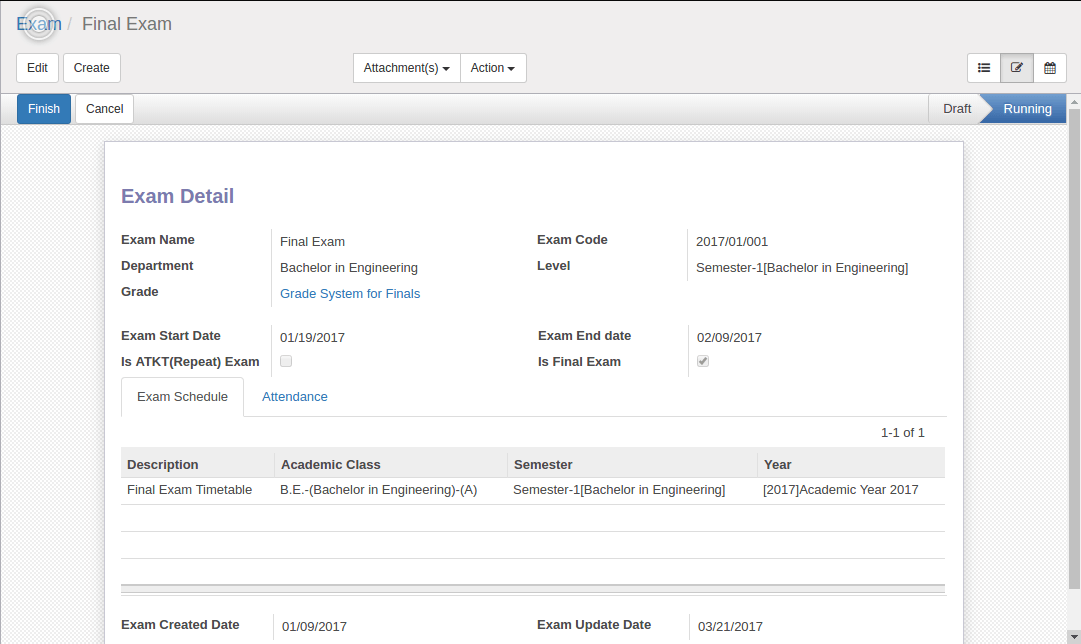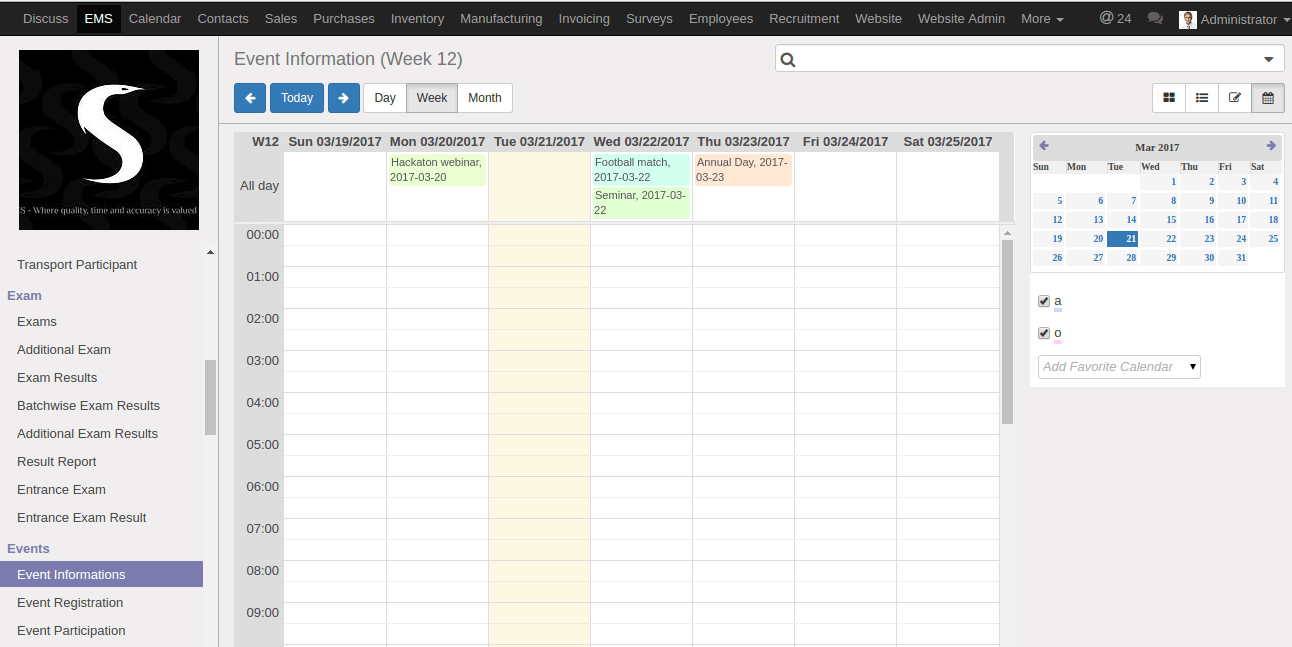 Calendar Management

Display Events, Examination, Holidays and Dues in the calendar.
Time table and lecture schedule for teachers & students.
Exam results date for parents and students.
Library
Books are easily located within the racks.
Books acquisition record and requirement.
Subscriptions and membership management also can be done.
Multi located library featured setup.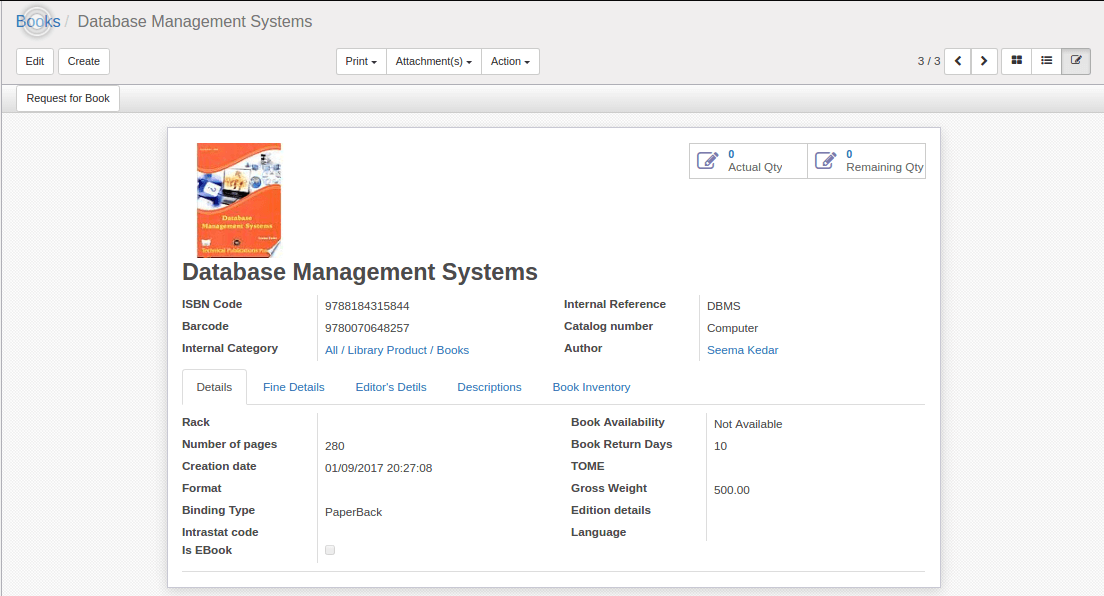 Human Resources
Manage all employees from admission to exit with customizable admission form.
Manage entire payroll efficiently.
Online inductions programs for the better well organized environment.
Staff compensation and benefits policies.
Hostel Management
Add/Edit/Delete/View different types of Hostel and different types of Rooms, Allocate rooms to the students
Hostel fee payments reminders alert can be send.
Hostel movement and activities reports.
All the information is accessible to the administrative department .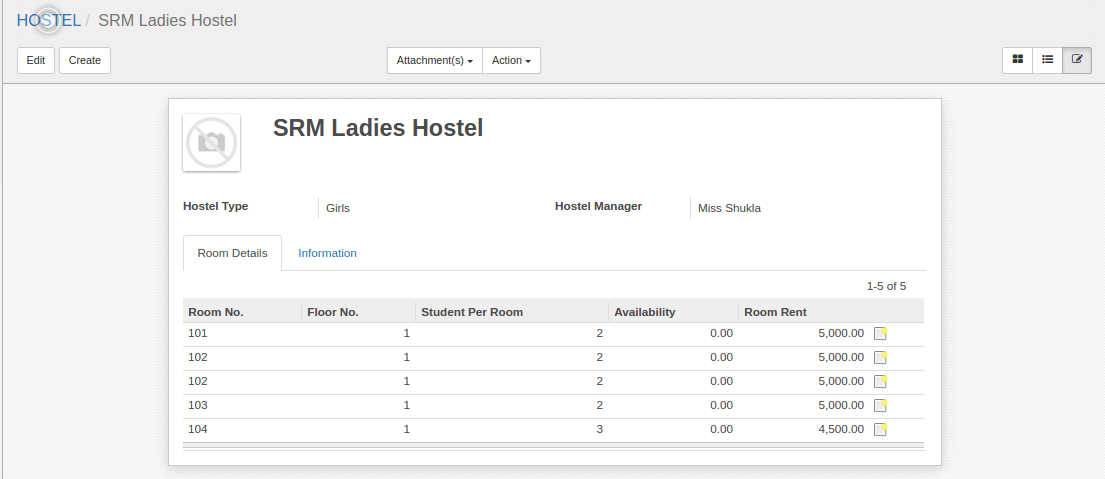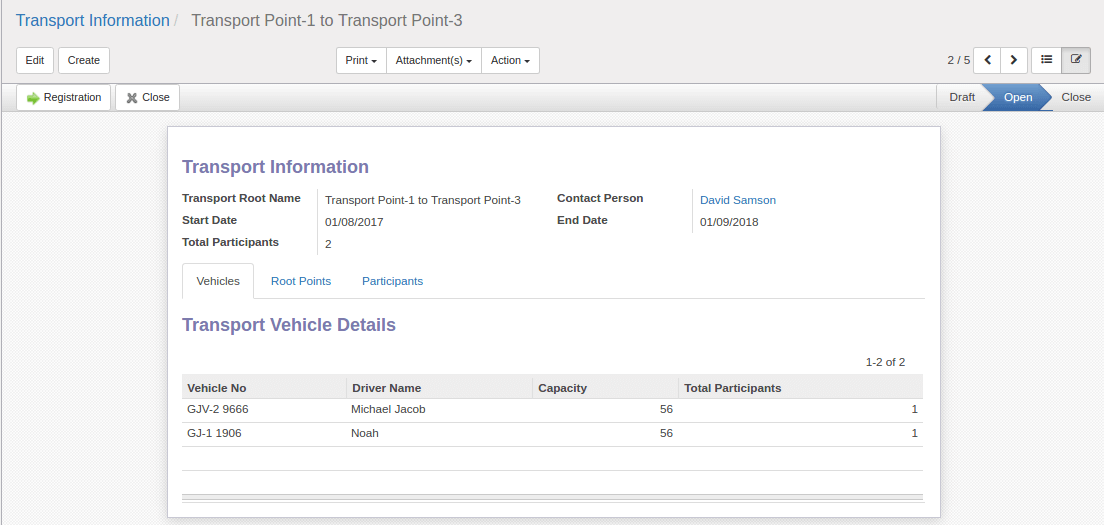 Transportation
Add/Edit/Delete the vehicles details and routes for vehicles can update.
Add destination and cost details, and transport Details can get easily.
Canteen Management
Consolidated utilization report of multi located canteens.
Software billing system with applicable taxes.
Integration with payroll system.
Accounts can be customized.

What Our Clients Say About Us
We have deployed for some customers and are also using it ourselves. I would like to describe - this module is reliable, useful and offering good value for money.

Product : Singapore Localization


Ken Tan, Accentuate Pte Ltd, Singapore.
Its amazing. Being able to manage properties and having it fully integrated with accounts. I don't think there are many systems out there that can do this.

Product : Property Management System


Ken Tan, Accentuate Pte Ltd, Singapore.
ODOO PMS is so big and have so many features, that we couldn't make it work. Maybe this year we will put more resources working on this proyecto, so we can get it work. The features meet our requirements, but it`s not very intuitive for people with low to medium experience in softwares.

Product : Property Management System


Cristobal Lama, Redcomercio, Santiago Centro, Chile
Good base for further development.

Product : Restaurant Management System


Victor Jemio, DAO Systems.
Simply, Meets our needs.

Product : Property Management System


Hatem Mohamed, Swanco Group, Egypt.
Fantastic Module. This module strengthen Odoo's weakness: POS. Not only would I recommend Restaurant POS. I would highly recommend any solution providers out there to consider working with Serpent Consulting. Studying the modules that they have developed. They have shown undoubted competency in both software development as well as business processes. There are many developers out there but it is not easy to find one that is competent in business processes. So I highly recommend working with Serpent Consulting Services. Cheers.

Product : Restaurant Management System


Ken Tan, Accentuate Pte Ltd, Singapore.
Mass Editing is a fantastic time saving module that, in many cases, replaces the slow and tedious process of exporting to a CSV and re-importing. It is a great productivity booster for anyone who needs to update ODOO data in bulk!!

Product : Mass Editing


James Edmington
It worked, but it was lacking a lot of features we expected. We did expand it a bit before using it.

Product : Restaurant Management System


Cristobal, Aktiva
Serpent CS, was able to handle our needs in a very short time and a complex environment. The functional team and the technical team was well coordinate and handled our request at every time, even by night. I can surely recommend the service of Serpent CS.

Product : ODOO-Office 365 Module


Tahar, CEO of Sotelco.
This module is good, meet our needs and offering value for money. I look forward to get more reports & commission for real estate manager in coming version.

Product : Property Management System


Ahmed, Amek Capital, Kuwait
Overall, SG Localization Module is a good start for Singapore based company looking for a quick and easy way to use ODOO. Product : Singapore Localization - Jeremy Low, AXTRO, Singapore
Good Application Does what it promises.

Product : Property Management System


Robert, LinqOne, Canada
It is a module very fit to the needs of the restaurant client. Easy to learn, user-friendly. Parametrizable to the needs. Totally recommended.

Product : Restaurant Management System


Carlos Alberto Loaiza Guerrero, Pragmatic Ingenieria S.A.S, Colombia.