EDUCATION MANAGEMENT SYSTEM
Learn the Way You Want
Delivers error-free outcome for hassle-free future.
The relevance of this software is optimal owing to its unique nature.
It supports every aspect of fees in the institutions devoid reflecting any error.
This software is easy to access and the constant usage can make anyone expert.
It combats the chaos while yielding the outcome and also has colossal data storage capacity.
WHY EDUCATION MANAGEMENT SYSTEM?

Centralized, Web Based, Student Information Solutions With Parent And Teacher Portal.

Efficient management of students, faculties, courses, and classes with a collaborative platform.

The Simple and affordable web solution that has everything You can manage your institution.

Rich functionality, higher education customer input— these are just three reasons ODOO leads the industry in Education management systems.
EDUCATION MANAGEMENT SYSTEM FEATURES TOUR
Highly regimented and organized system of working in the modern environment.
Students optimal learning in a collaborative environment.
Manage faculties with the transparent and inclusive platform.
Integrated Library Management System helps maintain Book Management.
Create, edit and share courses for powerful learning.
Keep a tab on the finances with a systematic approach.
ADVANTAGES TO YOUR INSTITUTE
Students
Comprehensive admission form with Unique ID for all students with a photo.
Comparison feature to view their previous results and benchmarks.
Accurate performance report.
Timetable and lecture schedule.
Online exam integration.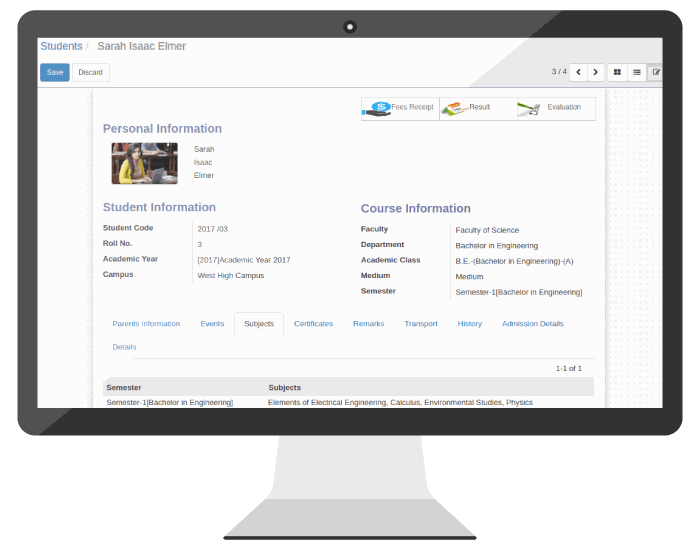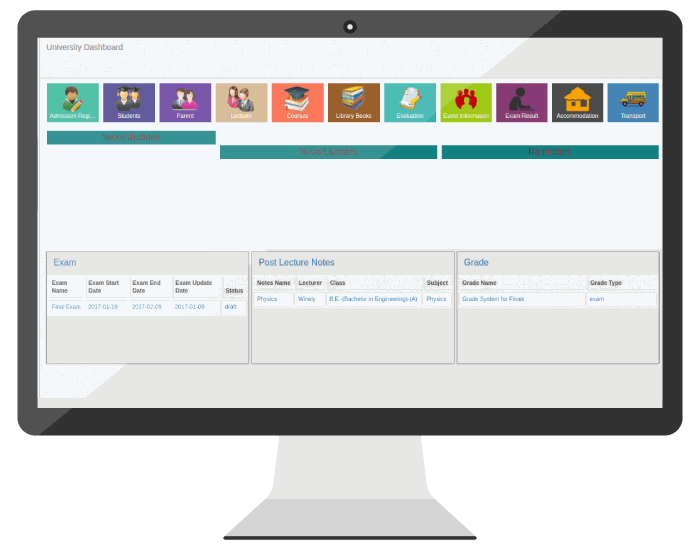 Assignment

Upload and download notes/assignments for the teachers and students can be submitted notes online.
Completion tracking report can be viewed within the provided time frame.
Upload or download syllabus options.
Course books information with publisher details.
Efficient multi-user-friendly environment.
Faculty
Faculty's credentials information Daily work can be assigned.
Faculties Remuneration records for variable payments to the lecturers.
Customize reports with multiple filtration options.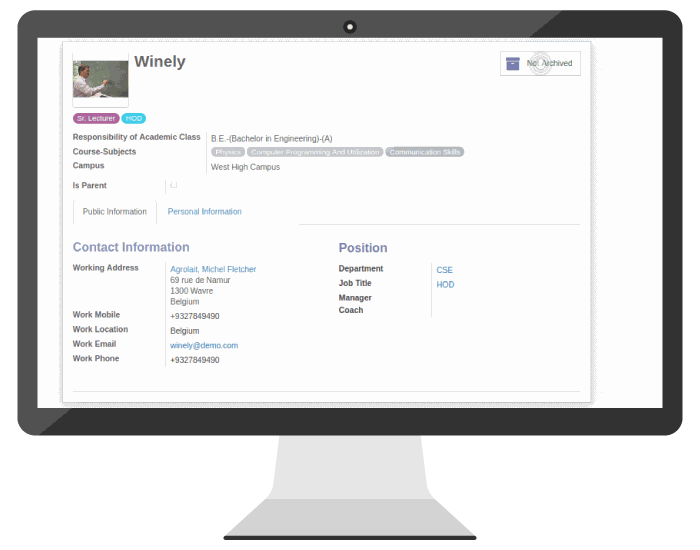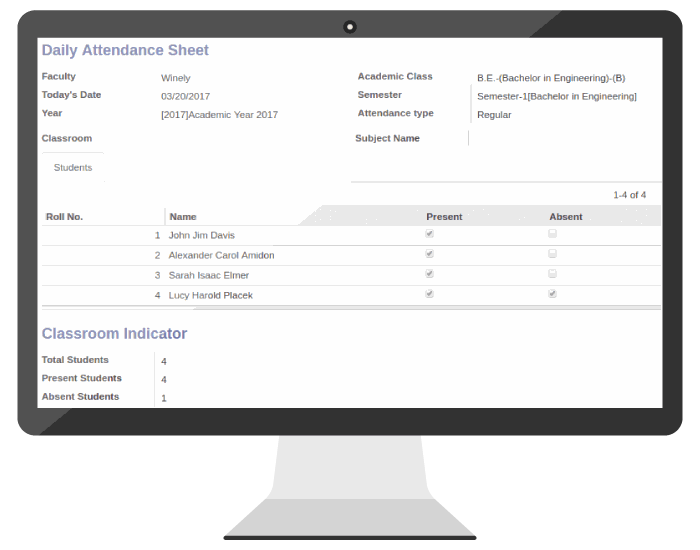 Attendance And Time Table

Quick and Easy marking of attendance, Note/Remarks for attendance can be given.
Attendance, Leaves, personal and information can be viewed and updated.
Examinations
Create different types of exams based on grades, marks and Group exams.
Define Exam templates, allocate Exam Resources, and track exam attendees.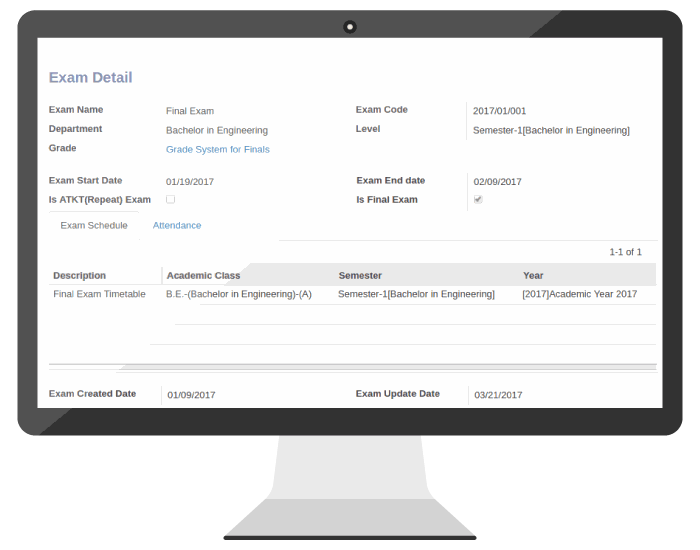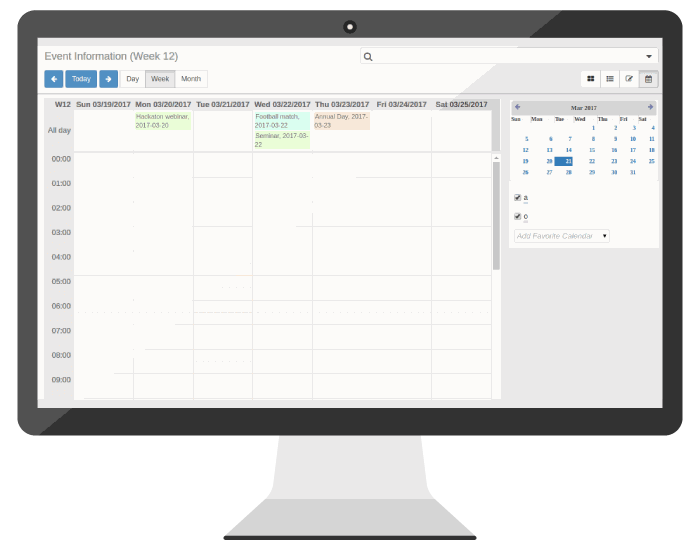 Calendar Management

Display Events, Examination, Holidays and Dues on the calendar.
Timetable and lecture schedule for teachers & students.
Exam results date for parents and students.
Library
The multi-located library featured setup.
Books are easily located within the racks.
Books acquisition record and requirement.
Subscriptions and membership management also can be done.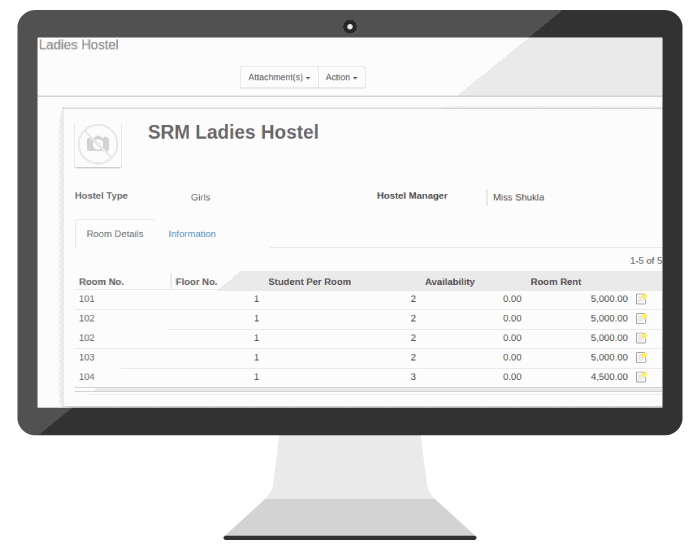 Hostel Management
Add/Edit/Delete/View different types of Hostel and different types of Rooms, Allocate rooms to the students The hostel fee payment reminders alert can be sent.
Hostel movement and activities reports.
All the information is accessible to the administrative department.
Transportation
Add/Edit/Delete the vehicles details and routes for vehicles can update.
Add destination and cost details, and transport Details can get easily.